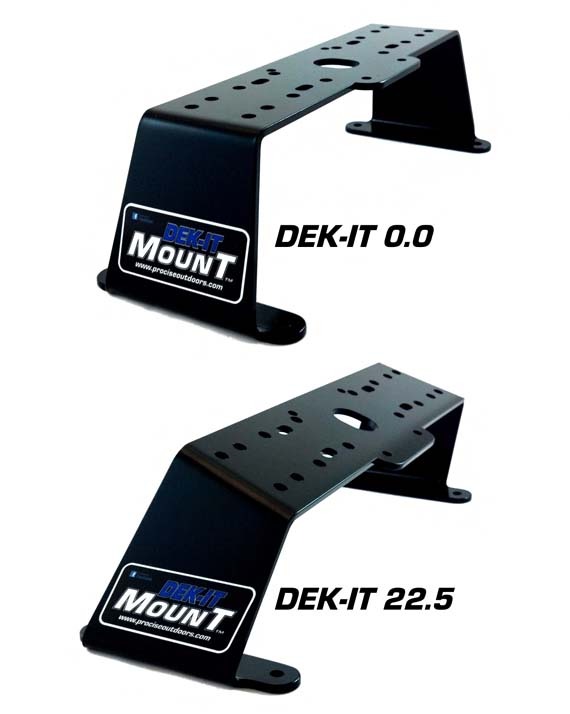 DEK-IT FISH FINDER MOUNT…for when mother nature decides you shouldn't be on the water!
Today's fish locators are bigger and better than ever so we at PROcise Outdoors created a mount unlike all the rest! Stop watching your bow mounted fish finder bang and bounce around putting unneeded stress on wires and the locator it self. This durable mount is built to withstand anything mother nature can throw at you!
Proudly made here in the USA! 
Tournament tested and approved by Bassmaster Elite Champion Brandon Palaniuk!
Constructed from high quality aluminum!
Designed to take on those punishing runs when its all on the line!
Hole patterns for multiple brands of fish finder electronics including Humminbird, Lowrance & Garmin!
If needed you can drill your own holes to accomplish any fit!
Fits nearly all boats with a recessed foot pedal well!
The GPS Dek-It Mount's will accommodate Humminbird, Lowrance & Garmin antennas!
The 22.5 Dek-It's fish finder mounts are tilted back getting your graph out in front of you a bit more and allow your foot more room to work!
Dimensions:
0.0 Degree Black – 15.5″L x 5.5″W x 4″H
0.0 Degree GPS Black – 15.5″L x 5.5″W x 4″H
22.5 Degree Black – 15.5″L x 5.5″W x 4.5″H
22.5 Degree GPS Black – 15.5″L x 5.5″W x 4.5″H