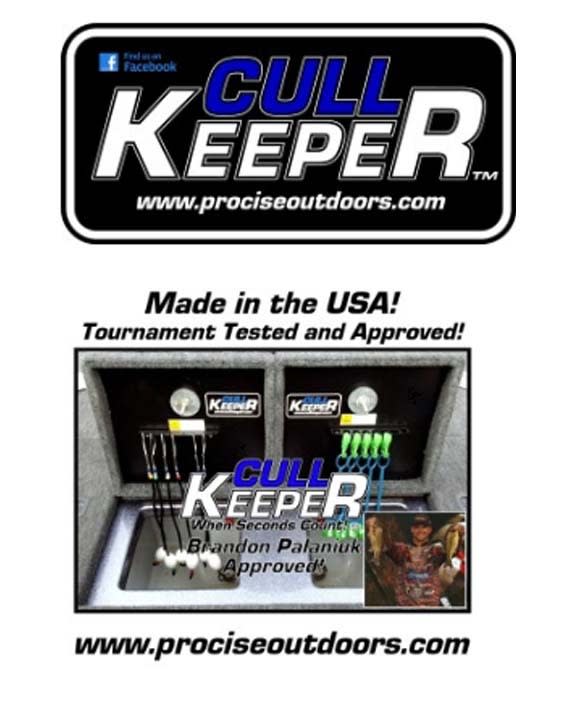 Professional Tournament Angler Fish Culling System Buoy Keeper!
Keep Your Fish Culling System Buoys in Order!
Proudly made here in the USA!
Tournament anglers are forever looking for ways to have an edge on the competition. Save yourself some valuable time when it comes to tagging your fish and get back to fishing before they do with this tournament fish culling system organizer!
Keep your fish culling system buoys where you need them and at the ready. No more messing with tangled tags or searching for the correct color. Fish in one hand then grab the tag from the clip end not the float. Guaranteed to save you time tagging your fish.
Cull Keeper buoy organizational fish culling system is constructed from high quality aluminum designed to last a lifetime. Stainless steel mounting hardware and decal are included. You may be able to install using epoxy. A light sanding to the adhesion site will help insure a good bond. Some livewell doors have foam padding which would not allow epoxy install. "Cull tags not included."
Be sure to mount your Cull Keeper fish culling system in a spot that will allow the livewell door to close. An 1/8″ drill bit will be needed if you choose not to install with epoxy.
Keep Your Fish Culling System Buoys In Order With This Tournament Fish Culling System!
Five models to choose from!
6 hole Brandon Palaniuk signature series
5 little hole powder coated black
5 big hole powder coated black
8 little hole powder coated black
8 big hole powder coated black